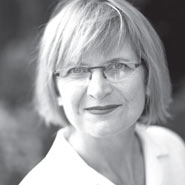 by Jancis Robinson
Usually when asked to predict the future people look at what is happening now.
In the mid 1990s therefore I would have predicted that the entire world would have been planted with Chardonnay and Cabernet Sauvignon. How wrong I would have been.
I have been writing about wine long enough to see that pendulums swing back and forth and even though it may seem as though the future for wine styles holds nothing but big, sweet, heavily oaked alcoholic wines, I firmly believe this particular pendulum has reached its maximum extent  and is swinging back towards finesse, elegance and, wine's most important quality, refreshment.
Consumers are increasingly expressing their distaste for these exaggerated wines. They want second glasses. They want to drink not sip.
Retailers (Marks & Spencer for example) are expressing their desire to deliberately buy less alcoholic wines.
Producers, while under the influence of climate change, more powerful yeasts and the influence of comparative tastings in which heavier wines inevitably stand out, are looking for ways of delivering maximum flavour without necessarily maximum alcohol.
Producers are very, very important. You are more perceptive than your customers. You care more about your wines and the detail of them than your retailers. You really understand wine and it was producers not consumers, for example, who were responsible for the dramatic widening of range different grape varieties now available.
Producers are extremely sensitive tasters and drinkers. I trust you to guide us back to more refreshing wines while taking on board all the technical innovation and scientific knowledge that we now have at our disposal that we didn't have 10 or even 5 years ago.
And in all this we have been really talking about red wines, but with global warming I would not be surprised to see demand for interesting, appetising white wines rising once more.
Renaissance of aromatic varieties such as Riesling, the demise of oak.
As for price, the future does not look quite so bright. The market continues to expand so there is an upward pressure on prices of trophy wines. More and more collectors in new markets such as Asia, Russia, South America which are entirely new – and they don't mind how much they spend – not like the British.
Just as the quality difference between wines at the top and bottom of the scale is narrower than it has ever been, the price difference is at its greatest – curious.
Also online search engines mean that it's a global market now and overpricing is increasingly difficult.
There are many very good (not trophy) wines but they take time to gain a reputation sufficient to propel them in the high price stratosphere. So the price pressure on trophy wines will continue unfortunately. These wines will enter a special realm which is terra incognita to ordinary drinkers – a shame.
And very depressing for producers to think they are crafting luxury goods rather than drinks surely? The trophy wines only for millionaires.
Perhaps this will provide the impetus from producers to put even more effort into crafting their second tier wines, knowing these are the ones that 'ordinary' wine lovers will be able to afford when they want a treat? This could be good for us all.
Competition will continue to increase as the wine world widens, although Islamic influence may stop it spreading quite as fast as one might once have thought.
This will stop prices below trophy wines rising too rapidly.
Packaging will evolve. Corks vs screwcaps. Bottles necessarily?
Communication: producers and consumers will increasingly squeeze out communicators in between.
If I were starting out today I would go straight on to the web – very  democratic and truly global.
I salute you producers. You are the most important people in wine and I only wish I could make a drop of the delicious stuff you give us to write about, talk about, taste and – drink! Thank you for all the pleasure you have given me and millions of other wine enthusiasts. Let us never forget that wine is about not money, alcohol or points but about pleasure – and how lucky we are to work with a commodity that the financiers want to spend all their money on.